Vernon Real Estate Statistics
| | |
| --- | --- |
| Average Price | $996K |
| Lowest Price | $300K |
| Highest Price | $6.5M |
| Total Listings | 390 |
| Avg. Price/SQFT | $1.6K |
Property Types (active listings)
Browse Homes For Sale In Vernon, BC
Click the links below to sort results by price range.
More On Vernon Homes For Sale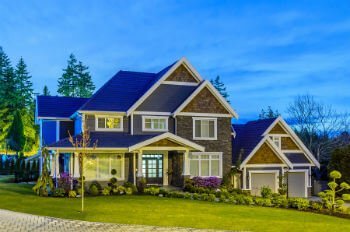 The Vernon real estate market is prosperous and home to a vast collection of beautiful homes to suit a variety of lifestyles. The most affordable Vernon homes fors sale are primarily comfortable condos and apartments in established low-rise buildings. There are also bungalows, ranchers, and single-story cottages in the lower end of the market. Despite their relatively modest prices, these cozy homes are often located in pleasant neighborhoods and feature picturesque views. Houses for sale in Vernon are among some of the hottest residential properties in the Okanagan and are sure to hold their value over the years to come.
Moving up the market, buyers will encounter a greater selection of detached, single-family homes. Craftsman style houses are prevalent, as are rustic chalet-style properties, new contemporary residences, and spacious two-story traditional properties. In the mid to upmarket range, the city's new developments can be found; a wealth of sleek, stylish condominiums and townhouses are available to cater to the young professional demographic as well as those who prefer a maintenance-free style of living. These beautiful complexes offer bright finishes, open layouts, and a fresh look at Vernon's future.
Search Kelowna Real Estate By Property Type
Browse Vernon Communities
Vernon Luxury Homes
Vernon's more expensive real estate options include gorgeous lakefront properties, or homes on elevated lots overlooking the water. These higher-end homes come in traditional rustic styles, though some cutting-edge contemporary masterpieces can be found as well. Lakefront homes can feature charming docks or piers that stretch out onto the crystal-clear waters. Others sprawl over the wooded hillsides, allowing residents to walk down toward their own private piece of the lake. Vernon's upscale residential options also include resort communities that take advantage of the region's stunning natural landscapes and intrinsic luxury. The Rise is one such community; this master-planned hamlet is home to a number of gated sub-communities and features a scenic golf course, natural walking trails, and enviable homesites in an exclusive lakeside location.
Whether you're in the market for something simple & classic, stately and opulent, or right in the middle, you can find it on the Vernon real estate market. The small city allows for short driving times and easy walks, so your home is never too far from work or school. And regardless of budget, any home here will allow you to take full advantage of everything the city has to offer, from natural attractions to great city amenities.
Living In Vernon, BC
Vernon is a slice of paradise for families with children, retired golf enthusiasts, and everyone in between. The city enjoys a dry, airy climate with balmy summers and crisp winters that carving the champagne powder of Silver Star Mountain. Vernon is also nestled between the three incredible waterways of Okanagan Lake, Kalamalka Lake, and Swan Lake. The distinctive blue-green hue of Kalamalka's shimmering waters is absolutely unparalleled in the sun-dappled summers.
Vernon is also agriculturally rich and is home to many family-run orchards. You can always count on high-quality local produce from the wonderful markets here which carry everything from cheeses and honey to fresh Okanagan fruit. Wineries, vineyards, and craft distilleries dot the landscape in the area, providing the perfect complement to Vernon's world-class cuisine. In the summer, enjoy a glass of local wine from a lakeside balcony for an experience that is simply unparalleled anywhere else. The Vernon Golf & Country Club is a superb place to immerse yourself in the quintessential Okanagan lifestyle.
Outdoor enthusiasts will find Vernon well-suited to their pursuits and interests. Hiking and biking trails wind through and around the city. The lakes are rich with activity from canoeing and kayaking to paddleboarding, swimming, waterskiing, and fishing. Fantastic rock climbing spots can be found in lakeside canyons, while the surrounding mountains including Silver Star boast the elusive champagne powder you've been dreaming to ski or snowboard. Lush forests, windswept grasslands, and pristine freshwater beaches are all at your fingertips in this renowned region.
Those in search of a location with excellent educational institutions and vast career options need look no further than Vernon. Families with children will enjoy the wealth of family-oriented neighborhoods, the safe & friendly environment, amenities for children, and excellent schools. Those thinking primarily of their career development can look to Vernon's top industries of professional services, agriculture, tourism, forestry, and increasingly, advanced technology. Vernon has even won an award from the British Columbia Small Business Roundtable for the city's excellent practices in fostering the development of local businesses.
To top it all off, Vernon offers a vibrant cultural life and is home to fantastic shopping, dining, museums, and galleries. A burgeoning nightlife scene continues to blossom as more people come to experience this wonderful city. If you're looking for comfort and relaxation, excitement and adventure, or new opportunities, you'll find Vernon an exceptional place to put down roots.
Start searching for your dream home now.
When it comes to convenience, our site is unparalleled. Whether you're in the comfort of your home, or on the go.
Our site works flawlessly on multiple devices so you can find the information you need.
Start Search